Restaurant review - The Spread, Hereford
This is a a review I left for The Spread in Hereford on Facebook. I've become a little nervous about the longevity of my social media posts, as I contemplate closing my Twitter account, so I decided to reproduce it here. Who knows, maybe it's the start of me writing more reviews on my blog? I have expanded it slightly to be more of a "blog-first" critical review, than a quick "had a great time, would come back" Facebook one.
Tonight I had a wonderful meal in a relaxed and very enjoyable venue with our two dogs, on a Saturday evening while my wife was busy in Hereford City Centre, in The Spread.
Dom and the team were very friendly, helpful and couldn't be more accommodating. From when I rang this morning, to enquire if I could bring my two greyhounds (probably given away who left this review there!) through to my after dinner coffee, I had a completely chilled and stress free experience. I was quite anxious about being able to find somewhere to relax on a busy Saturday night in a city centre but The Spread delivered relaxation in spades, even when some more merry (intoxicated) diners joined us the staff were concious of their other guests and we both (the table of rather drunk lads and I) seemed to have a good time without disturbing one another.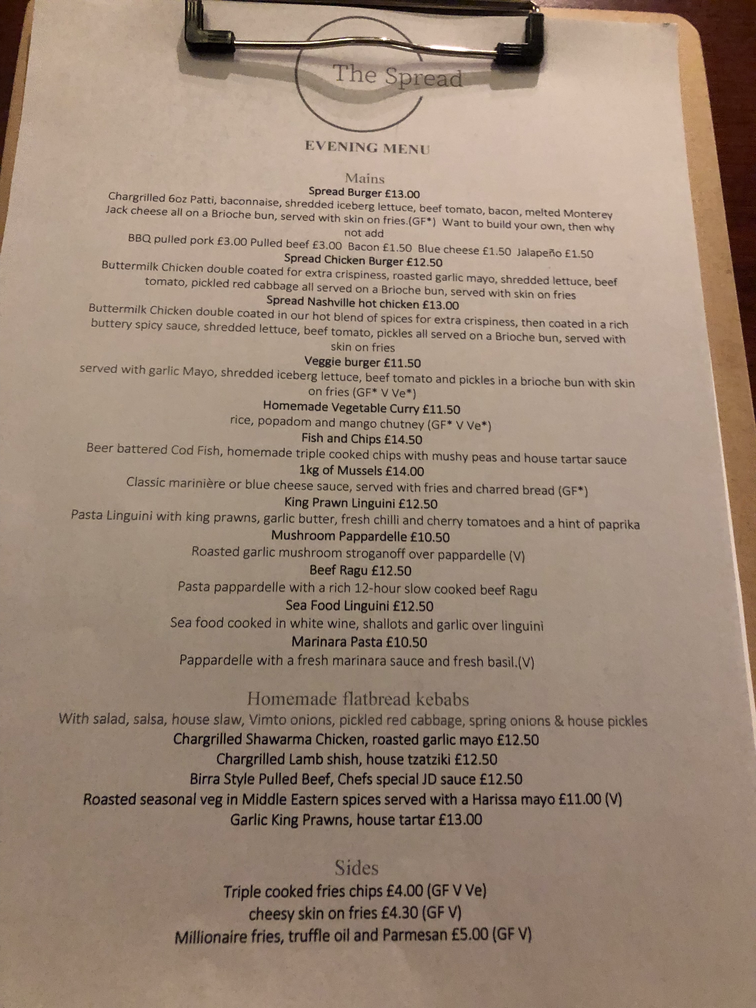 I thought that the burger, cheesecake and ice cream (yes, I had two desserts) I ate were delicious and I thoroughly enjoyed my ale and coffee. The strawberry ice cream particularly worth a try - tasting strongly of real strawberries, not overpowered by the cream and sugar flavours, in the ice cream that I've struggled to find outside my own home-made creations. The option to add blue cheese to the burger, a (perhaps unusual) preference of mine, was on the menu - something I find increasingly hard to come by these days.
When I popped to the loo, I noticed it was down a flight of steps and there appears to be one toilet (an accessible one) for all guests. The toilet itself seemed spacious, with a fixed grab-rail on the wall to the right (as you face it) and a drop-down on the left - the arrangement preferred by my wife for transferring. I was told that the toilet can be accessed on the level by going out of the venue, down the side to their patio space and back in through the patio doors. Not much fun on a dark and/or wet night, for those unable to decent the stairs, I am sure but at least the staff have an awareness there is a way and how to get there. As was pointed out to me, it is an old building so that needs to be borne in mind before being too harsh about this.
I did find that the dessert menu raised more questions than it answered, when it was presented to me and I was left to peruse it. How much are they? How many scoops of ice cream comes in a serving? (presuming one can mix-and-match - the answer is you can and the price is per-scoop, so one can have as many of few as one likes) What precisely is a "pornstar cheesecake"? Fortunately, when Dom checked in on me and asked if I was ready to order, my "I have questions" was immediately responded to with all of the answers to these questions (and more) without having to actually ask them. It would appear guests routinely ask these things.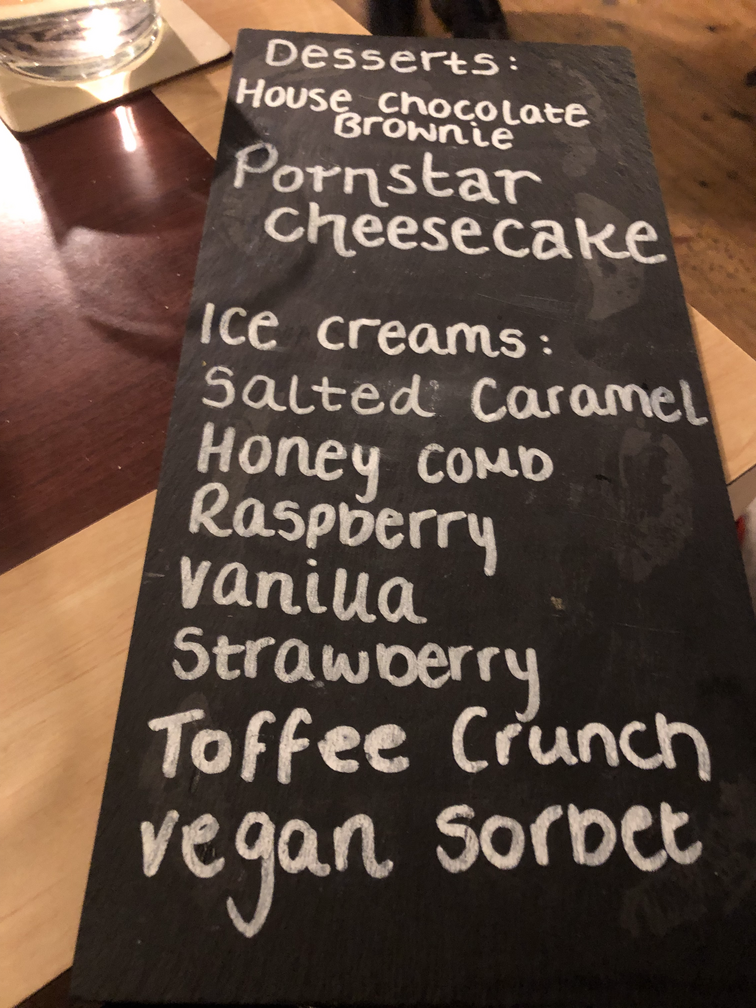 Sometimes you get to meet someone who genuinely seems to love what they do and Dom fits that bill - engaging and enthusiastic while remaining tactful and grounded. An absolutely pleasure to have met him and while I'd have had a perfectly pleasant evening without him, his presence and character elevated my visit to being an outstanding dining experience.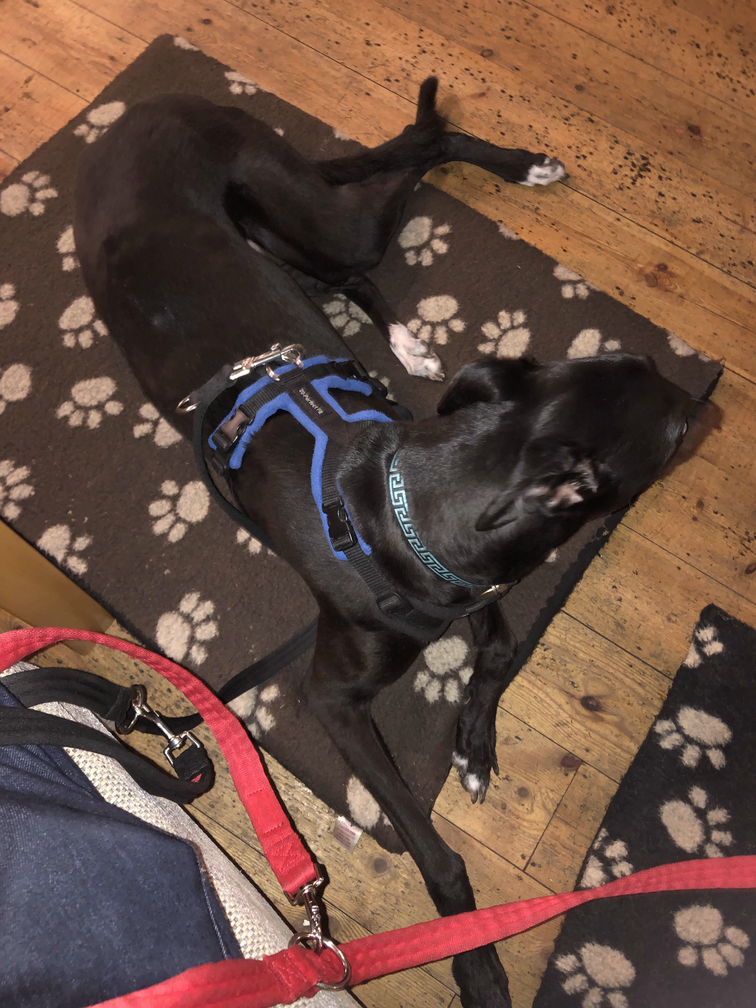 I will certainly be intending to return, hopefully with my wife next time so she can also experience this wonderful gem of an establishment just off the Cathedral grounds.
My dogs definitely approved!